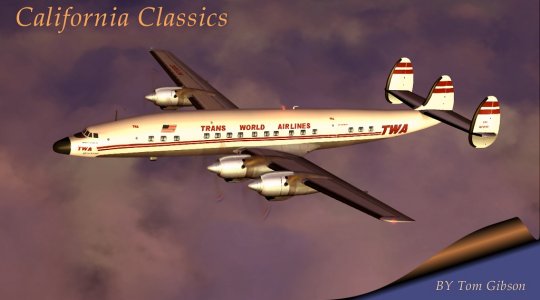 The Curtiss CW-20 Commando
The Curtiss CW-20 (C-46) Commando was designed as a DC-3 competitor, with almost twice the carrying capacity (but about the same speed). The Commando made its maiden flight in March, 1940, and sported Wright Cyclone R-2600 radials of 1700 hp. It was subsequently used as a military transport with Pratt and Whitney R-2800 engines, and was most famous for its "Hump" trips from India to China during WW II. After the war, Curtiss tried to launch a new passenger transport version of the Commando, the CW-20E. However, with thousands of surplus transports on the market, this project never stood any real chance of success. In fact, even civil C-46 passenger conversions failed to attract orders from US trunk carriers, and the Commando was most often used as a freighter in the US. On the other hand, the Commando proved to be very popular in South America, where a few may still be in service.
Click on the image to download the plane.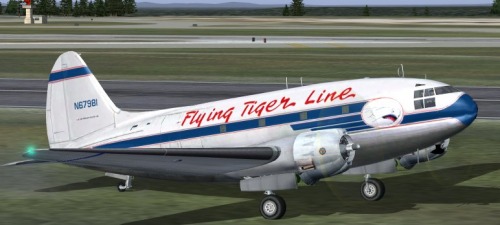 FS2004/FSX Flying Tiger Line C-46 Commando. Now version 2! Libar Guzman has created this all new GMAX C-46 with help from Greg Pepper and myself, and painted it into Flying Tigers livery. They used it throughout the USA. Original panels by Willy McCoy, sounds by Mike Hambly, Benoit Plamondon, & Mark Cranston (Aeromusica). Other liveries included (by several authors) include Aerocondor, Aeronorte, Everts Air Fuel, and USAAF. Bare metal livery included for repaints. Last updated on 4/04/11. Fix file for exhaust flames (missing effects textures). Last updated on 11/14/11.