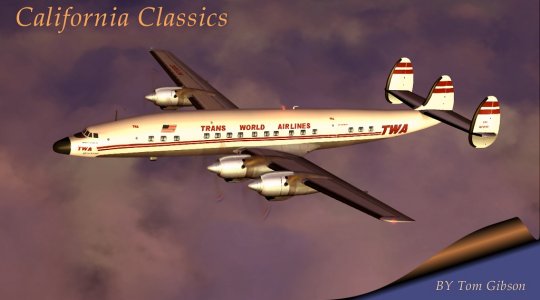 The Lockheed Constellation
TWA in 1939 was having trouble funding the Boeing Stratoliner purchase, and in fact at one point Boeing stopped work because of lack of progress payments. At this point Jack Frye, president of TWA, convinced Howard Hughes to invest in the airline, and Hughes eventually had enough board members to take effective control. Hughes wanted TWA to have the best airliner possible, one that would make TWA a clear leader in aviation. TWA had participated in the original DC-4 (later DC-4E) project, but it was too large and appeared to be uneconomical. While the other participants (United, Eastern, and American) went back to Douglas for a new DC-4, Hughes decided that TWA could do better (and wanted an aircraft exclusive to TWA). Thus in 1939 he called Frye to discuss such a project. By the time the call was over, they had agreed on the plane's conceptual mission and a list of design objectives. Howard then called Bob Gross, head of Lockheed, who jumped at the chance to become a major player in airliner production. He thus agreed to the clauses that the project was to remain completely secret, and that no planes would even be sold to another airline until TWA had 35 planes delivered! The project remained secret until a few months before Pearl Harbor, when it was announced that TWA would soon have in service a long-range, high-speed, high-altitude plane that was clearly years ahead of the competition. Soon after this announcement, Juan Trippe made it clear that he wanted into the Constellation project, and on an equal footing. Due to various factors, TWA agreed, and Pan American then also ordered 40 Connies, to be delivered at the same time as TWA's. Since PAA didn't compete with TWA, this would not be a problem.
Unfortunately, this clear advantage was not to be. After Pearl Harbor and the US entrance into WWII, all Constellation production capacity was taken over by the government and the plane was assigned the designation C-69. Progress was slow, due to many other projects with higher priority (primarily the P-38 Lightning). The first example flew in January, 1943, but by VJ day only 15 had been delivered. These and the planes on the production line were quickly converted to airline use, but this wasn't the plane that TWA and PAA had ordered. The L049 was a quick conversion of the wartime C-69, without the sumptuous appointments contemplated for the original Constellation. However, they were still better than the competition's conversion, the DC-4, so operations began in February 1946. A total of 88 L049's were produced.
The airlines finally convinced Lockheed to produce the original "gold plate" Connie, which was delivered to Eastern in late 1946 as the L649. The later L749 (and L749A variant), with extra fuel in the wings, became the "standard" short-bodied Constellation, with 113 produced. The L749 was superseded by the L1049 Super Constellation in 1951, featuring a body stretch to increase capacity. The Connie was very popular on long-distance routes, and was commonly seen in trans-Atlantic service early in its career. It later was downgraded to secondary routes, but stayed in service (sometime longer than the Super Connies) due to its reliability and durability. The last scheduled Constellation airline service in the US was a Western Airlines (ex-Pacific Northern) L749A flight from Juneau, Alaska, to Fairbanks on November 26, 1968. There are several Connies still in existance, including 3 flyable ones from the MATS group, Constellation Group, and Columbine II.
Click on the image to download the plane.




FS2004/FSX TWA L-049 Constellation.

Volker Bohme, Luis Pallas, Bill Tyne and Stefan Werner have taken Manfred's L-749 (below) and converted it into an L-049, the original Connie. Here it is painted up as it was in 1946 for TWA. The package also includes Pan American and KLM liveries! Thanks! Last updated on 8/1/2011.


FS2004/FSX TWA L-749 Constellation. Well, Manfred Jahn and his hard working group have done it again! This time it is the L-749, which was generally considered the best Connie built. It was reasonally reliable, had good range, and fine economics. It is provided in multiple versions, and includes other airline and military liveries for each of those. The version pictured is a TWA 749 in the mid 1960's. Thanks to all! Last updated on 12/9/09. Model Update. Last updated on 1/10/10. Optional flight dynamics update. Last updated on 1/29/10. Flight dynamics taxi update (must also use FD update). Last updated on 4/28/11. FSX Supercharger fix. Last updated on 4/28/11.
FSX/P3D MDL Files. I have converted the MDL files to FSX native format, for use with FSX and P3D. Last updated on 7/19/19.


FS2004/FSX TWA L-749 Constellation (early). Hans Hermann has repainted Manfred's L-749 Connie into the colors they wore when delivered and in the early 1950's. The major difference is that it was all bare metal, vs the white top and no radar. Textures only - requires the TWA L-749 package. Thanks Hans! Last updated on 12/9/09.


FS2004/FSX TWA L-749 Constellation. Here is the white top scheme, but without radar. This was the typical appearance of the TWA L-749's from the mid-1950's well into the 1960's. Hans also painted this one - thanks! Textures only - requires the TWA L-749 package. Last updated on 1/13/09.


FS2004/FSX Trans California L-749 Constellation. Gary Harper has painted up this rendition of a local California airline, Trans California. It tried to compete in the early 1960s with PSA and the others, but only lasted a few years. Thanks! Textures only - requires the TWA L-749 package. Last updated on 6/21/16.


FS2004/FSX TWA L-749 Constellation (late). Hans has also painted up a TWA Connie in the last scheme they wore, just before they were sold off in the late 1960's. They look great in this scheme, don't they? (normally thought of for jets only). thanks again! Textures only - requires the TWA L-749 package. Last updated on 12/17/09.


FS2004/FSX QANTAS L-749 Constellation. I'm not sure if they flew 749's over the Pacific but just in case they did, here is the Connie in QANTAS colors. :) Tim Scharnhop painted up this very nice livery - thanks! Textures only - requires the TWA L-749 package. Last updated on 12/17/09.


FS2004/FSX Transocean L-749 Constellation. Transocean was a supplemental airline based in Oakland, and Dave McQueen has painted up a L-749 - thanks! Textures only - requires the TWA L-749 package. Last updated on 12/17/09.

FS2004 TWA and Pan American L-049 Constellation. John White and FSDZigns has produced one of the most amazing freeware propliners ever created! It comes complete with panel and sound, and represents the 049 as delivered by Lockheed. Flight dynamics are by FSAviator, so you know they're good. The panel gauges have been done by Hans-Joerg Naegele, who also did the wonderful L-1049 panel gauges - and they work great. Check out the fuel distribution panel! John has created an early bare metal TWA paint job for the plane close to his heart - "The Star of Switzerland" (flown by his Uncle Jack), while Jaap de Baare has done KLM and PAA paint jobs too!! (32 MB) Thanks to the whole FSDZigns team! Last updated on 9/704.
Alternate FDE for those who have crashes in FS when using this plane. Not as realistic, but somewhat more stable for certain computers. Try the original first.

FS2004 TWA L-049 Constellation. Wayne Tudor has painted the beautiful FSDzigns Connie into the later white top colors of TWA. Note the non-radar nose; some similar 749's had radar added later. Textures only, the original TWA version is required. Last updated on 4/9/05.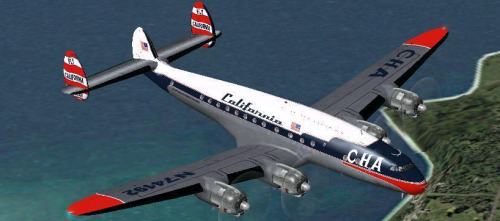 FS2004 California Hawaiian L-049 Constellation. Gary Harper has created this great rendition of a little known airline, California Hawaiian. CHA purchased a single L-049 Constellation in the early 1950's. This aircraft had been written off following a accident while in service with B.O.A.C. It was rebuilt and flew holiday charters to Hawaii from Oakland and Burbank before being sold to El Al Israel Airlines. Thanks Gary! Last updated on 5/27/08.