The Douglas DC-7F
When the airlines no longer needed DC-7s for passenger service, many were converted to freighters, often by Douglas in Santa Monica. These were usually called the DC-7F. although United Airlines used the DC-7A designation. These conversions allowed the DC-7 to fly many more years of service to those and later airlines.

High quality R-3350 DC-7 stereo sounds are available from Jon Jefferys. These are the best I've heard so far. They are designed to be used with the FS2004 slow engine startup. This package is downloaded separately; the base packs include a much smaller PropSound package. Last updated on 10/30/13. Update that reduces sound when engines are stopped. Last updated on 11/1/2013.

To repaint this model you can use the Paint kit for GMAX DC-7F's. Contains layered PSD files (usable in both Photoshop and Paint Shop Pro) which allow you to place your paint scheme between the bare metal layers and the windows and doors. Makes for fast painting! Note: there are no actual painting instructions in the file; follow the detailed instructions in my Repainting Tutorial. Please read the included text file for details for each DC-7 model. Now includes opening door shapes and freight doors for the DC-7CF and DC-7F (20 MB). Description of the DC-7F interior textures here and here. Last updated on 10/31/13.

Exhaust flames and Startup flames/smoke Package by Wayne Tudor available! (Already included in the Base Packs below.)

Green Panel/Cockpit Option by Eric Joiner and Tom Gibson. Last updated on 5/11/10.
Click on the image to download the plane.

FS2004 American Airlines DC-7F Base Pack. FS2004 ONLY! I've used the DC-6A and DC-7 to create a model of the DC-7F, the freighter conversion of the DC-7 and DC-7B (Domestic). This could also be called the DC-7BF Base Pack (and uses DC-7B flight dynamics), since almost all DC-7's were converted to DC-7B's when converted. Douglas and other companies converted DC-7's into freighters throughout the 1960's. It was used in the classic era by American and United, among others. It has been painted into American colors by Frank Gonzalez - thanks! Read the text file on how to control the doors and ground equipment. Requires the FS2004 UAL DC-7 Base Pack for panel and sounds. Last updated on 7/20/19.
FSX/P3D DC-7F Base Pack. I have converted the models to FSX native for use in FSX and P3D. This is a complete Base Pack and does not require the Base Pack above. Requires the FSX/P3D UAL DC-7 Base Pack for panel and sounds. Last updated on 10/21/2020.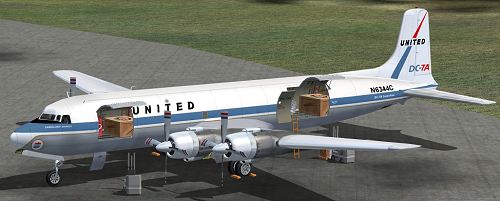 FS2004/FSX United Airlines 1960 DC-7F. Frank Gonzalez and I have painted up the DC-7F as a United DC-7A conversion that flew freight for several years before being sold off. Thanks! Textures only - requires the AAL DC-7F Base Pack above and theUAL DC-7 Base Pack for panel and sounds. Last updated on 4/17/19. Original livery by Frank Gonzalez. Last modified on 7/22/18.