Information

Downloads

---

Hi! California Classic Propliners is devoted to the Microsoft Flight Simulator simulation of the propliners flying in California, from the DC-3 to the final glory days (before the mid 1970's). Welcome!

This page will generally be limited to post-WWII propliners that flew in or into California on a scheduled or regular charter basis, and US carriers will have priority. (I hope others will develop similar pages for other areas and for later /earlier airliners - let me know and I'll set up a link!) I would like to thank everyone who has built, modified, or helped with the planes and other resources on this page.

Search the Cal Classic Propliners Site!
Click your browser's Back button to return here
FSX Information: I bought it, I installed it. I have determined that my sceneries are not compatible. Therefore, I have decided not to pursue creating addons for FSX at this time; we will still be creating for FS2004. However, see below for compatibility information.
Most of my (i.e. Greg Pepper's) propliners (i.e. the CV-340, etc.) have been tested in FSX and they work OK. You may need to find compatible blurred prop textures if you are using SP2 or later. Newer XML style gauges and panels appear to work best - old FS98 style gauges (developed as late as 2002) will not work in the sim. Thus my v6 panels are NOT compatible - use the latest XML panels. Engine start switches have the most problems when using FS9 panels. Sounds are OK as is. Do not activate the supercharger gauge in FSX/Acceleration - they are not compatible with the new flight model.
FS2004 Information: The more recent GMAX and FSDS2 aircraft give the best results. You can tell which planes are GMAX and FSDS2 aircraft on these pages by the fact that the plane's picture is larger than the older, incompatible planes.
Do you need help with installation? How do I get my plane listed properly in the Select Aircraft menu? How do I get ATC to call my plane using the correct airline, manufacturer, and model? Take a look here first!
Note: Some of these files are located in the AVSIM and flightsim.com file libraries. You need to be logged in to their file systems before the links will work directly.
December 8, 2013
New AI HQ Aircraft! Jaap de Baare has used Rick Piper's beautiful Viscount 700 to create a new High Quality AI aircraft for our classic traffic!
December 7, 2013
Updated Scenery! Completely updated 1961 and 1966 aris Orly airport sceneries from Harry Biard, Nikko Yaginuma, Jaap de Baare, Wolfgang Gersch, Tom Gibson and Bernard Leuenberger!

December 3, 2013
New Scenery! Mike Stevens, Al Courtney and I have created Hawaii 1959! Now with all major airport in Hawaii!

November 30, 2013
November 14, 2013
New Sounds! Jon Jefferys has created new sounds for the Pratt & Whitney R-2800 as used in the Convair 240 series!
October 30, 2013
New Sounds! Jon Jefferys has created new sounds for the Wright R-3350 as used in the Douglas DC-7 series!
October 11, 2013
Updated Sounds! Jon Jefferys has improved his high quality sound package for the Pratt & Whitney R-2800 as used in the Douglas DC-6 series! Now with improved startup sounds.
Remove those pesky telephone poles in the middle of taxiways in the Classic Scenery with this modified FS2004 terrain.cfg file!
October 9, 2013
New Scenery! Chris Helton has done it again - now presenting Washington National 1960!

September 30, 2013
New Scenery! Central Europe - Belgian Airports in 1961, by Harry Biard, Nikko Yaginuma, Jaap de Baare, Wolfgang Gersch, Tom Gibson and Bernard Leuenberger!

August 20, 2013
New Sounds! Jon Jefferys has created a new high quality sound package for the Pratt & Whitney R-2800 as used in the Douglas DC-6 series!
June 25, 2013
New Scenery! Chris Helton has created Newark 1958!

Updated Aircraft! I have reformatted the Handling Notes (Reference button in the Kneepad, F10) and some Checklists too! This includes links to the Notepad readme, the Propliner Tutorial Quick Reference, and a Mini-Tutorial. Aircraft include the B377, ConvairLiners, CV-580, DC-6, DC-6A/B, DC-7, DC-7B, DC-7C, F-27A, and Martinliners.
May 29, 2013
New Scenery!

Boston Logan in 1959 by Chris Helton!

Francisco Molo has created Goteborg Torslanda!

May 14, 2013
New Scenery! Central Europe 1961 from Wolfgang Gersch, Harry Biard, Michael Schneider,Jaap de Baare, Nikko Yaginuma, Tom Gibson, Bernard Leuenberger and Mike Stevens!

April 29, 2013
April 25, 2013
New Links! The links page has been updated with new ones!
April 22, 2013
New Livery! One more DC-3 texture conversion, this time from Dave McQueen's very nice MAAM-Sim textures!

April 19, 2013
New Planes! I've converted the default DC-3 to display lettering correctly on both sides of the vertical stab, and to be able to use the Awesum4sum texture mapping!
New Liveries! I've converted Gary Harper's FSX Awesum4sum DC-3 textures to use the CalClassic FS2004 model!




New Livery! Dave McQueen's Pacific Airlines DC-3 for the MAAM-Sim DC-3!

April 12, 2013
Updated Aircraft! Jens' DC-4 is now version 3!
New Liveries! New ones for Jens' DC-4!




April 7, 2013
Updated Scenery!

Harry Biard, Jaap de Baare and Bernhard Leuenberger have created an animated crash tender add on for the Nice (France) airport scenery!
Al Courtney has added custom buildings to Julio and my Chicago ORD scenery! It includes the Douglas plant and United and American hangars!

March 27, 2013
New Scenery! Atlanta airport in 1957, 1962, and 1972 from Dave Henderson, Juan Martinez and Stan Winke!

March 6, 2013
New Livery! A later United DC-7 from Jim Campisi!

January 17, 2013
December 23, 2012
Updated Plane! Manfred Jahn's L-1649A Starliner has been updated to version 4.0!

New Scenery! Nice, France in 1960 from Harry Biard, Johan Dees, Jaap de Baare, Wolfgang Gersch, Nikko Yaginuma and Tom Gibson!

December 17, 2012
December 3, 2012
New Scenery! Al Courtney and I have created the other major Alaskan airport, Fairbanks in 1962!

November 10, 2012
New Scenery! Juan Antonio Martinez Castro, Mike Stevens, and I have created Anchorage, Alaska, in 1959!

November 2, 2012
New Scenery! Jorge Rechani has created the TWA Headquarters in Kansas City, complete with a replica of the Disneyland Moonliner on the roof!
October 16, 2012
New Scenery!

Julio Birman and I have created Chicago O'Hare in 1962!

To go with Chicago, Juan Antonio Martinez Castro has created 1962 scenery for 10 smaller Illinois airports!
October 10, 2012
Tutorials Updated! The FSX Mini-Tutorial has been updated with new information about cfg settings with widescreen monitors, the Repainting Tutorial has been updated with new techniques for using DXTBmp, and the Sketchup Tutorial has been updated to use the latest version of the Material Editor in ModelConverterX. There is also a new tutorial on changing multiple colors at once using PSP 7.0. BTW, if you haven't read FSAviator's Propliner Tutorial, please do it now!
September 30, 2012
All DC-6's and DC-7's now have improved flap display!
June 28, 2012
New Scenery! Dan French has created Greater Cincinnati Airport from 1963!

January 23, 2012
New Scenery! Mike Stevens, assisted by Wolfgang Gersch and Tom Gibson, has created/backdated over 100 airport in the Asia Pacific 1962 scenery package!
January 20, 2012
New Scenery! Juan Antonio Martinez has created Lima Callao airport in 1965!

January 6, 2012 - Happy New Year!
October 9, 2011
New Liveries! Frank Gonzalez has painted up F-27's in new liveries: West Coast in 1966 and Pacific in 1967! All liveries now have new prop textures from Mark Rogers!

October 5, 2011
AI Traffic Fixes! Fixes for aircraft display problems uploaded for files # 1, 2, and 4! MATS and Helicopter traffic updated too!
October 3, 2011
AI Traffic Update! New airlines, new aircraft, and lots of new liveries! Updated MATS traffic too!

September 30, 2011
Updated Aircraft! I've further improved the F-27A below, and it is now FSX compatible!

September 21, 2011
New Airport Scenery! Here is Austin, Texas in 1961 by Juan Antonio Martinez!

September 19, 2011
New Aircraft! With the kind permission of Mike Stone, I've modified his Fokker F.27-200 into a better representation of a Fairchild F-27A!

September 16, 2011
New Airport Scenery! Dan French has created Houston in 1965 and San Antonio in 1966!


August 24, 2011
Updated Aircraft! CalClassic has developed a new Lockheed L-188 Electra Base Pack, complete with updated flight dynamics by FSAviator, an updated Kevin Trinkle panel, and four different aircraft versions: Chris Buff L-188A (PSA Orange Stripe) and L-188C (VARIG), and JR Lucariny L-188A (PSA Red Stripe) and L-188C (Western 1959). Air California and Western 1968 textures also available! All Painted by Bill Schulz and Frank Gonzalez. Thanks!

Improved Sound! The CV-580 allisonsnd package has been improved with a "constant RPM" sound!
August 6, 2011
New Aircraft Version! I have removed the black ADF "football" antennas from the DC-6A model below, and equipped it with CB-16 engines. This is common in the modern era. TheDC-6A CB-16 Base Pack liveries consist of Northern Air Cargo (small spinners, painted by Jim Campisi) and Everts Air Cargo (large spinner, painted by Dave James). Thanks!

August 3, 2011
Updated Plane! The DC-6A now comes in two versions, Combi and Freighter, featuring opening doors, cargo, and ground equipment!

April 4, 2011
Updated Plane! I have updated Libardo Guzman's C-46 with many improvements, including a clearer VC!

February 28, 2011
New Planes! Dave McQueen has painted up the MAAM-SIM DC-3 into the colors of the 3 Local Service Airlines in California - Bonanza, Southwest, and West Coast!

February 10, 2011
New FSX Plane! Bjoern Kesten has converted the FS2004 CV-580 for FSX SP2!
January 27, 2011
New Scenery!

Michael Schneider has created Moscow in 1963!

Aleksey Rubtsov has created Moscow Bykovo (modern), and I have backdated the airport layout!

January 19, 2011
Happy New Year!
New Scenery!

Paul Young and Nikko Yaginuma have created Des Moines, IA in 1955!

Wolfgang Gersch, Volker Boehme and Rui Cristina have updated Le Bourget to version 2!



New Aircraft! I have now linked to VBF textures for the Transocean and American CV-240!
November 23, 2010
November 16, 2010
Updated Panel! The Martin 404/202 panel now features a real Martin bitmap, thanks to Manfred Meyer and Ryan Miller!
October 21, 2010
New Scenery Package!
Custom Scenery Library. This file (175MB) contains almost all addon scenery libraries needed by our classic sceneries. Once this is installed, you can normally ignore the "download and install these scenery libraries" advice in the text files.
October 20, 2010
New Scenery! Wolfgang Gersch, Harry Biard, Jaap de Baare, Mike Stevens, Nikko Yaginuma, Johan Dees and myself have created classic airports for the entire continent of Africa!

October 12, 2010
Updated Scenery! I have updated the California 59/62 package with accurate airport layouts for all airports, taken from period Jeppesen manuals!

Updated Flight Dynamics! Volker Boehme has released updated flight dynamics for the L-1649A Starliner! Be sure to make the edits in my description after installation.

September 22, 2010
Updated Planes! The Boeing 377 Stratocruiser has updated flight dynamics, as well as an improved 2D panel and VC gauges! It also now comes in separate versions for each original owner and RANSA too!

September 8, 2010
New Planes! Hans Hermann and Georg Hauzenberger at Virtual Bird Factory (VBF) have taken Greg Pepper's CV-240 and improved it!

June 28, 2010
Updated Panel! I've upgraded the F-27 panel (in the Pacific Air Lines Base Pack) with new features, including slow prop startup/shutdown, fuel trimming, a new overhead panel, Notepads, and much more!



June 11, 2010
Updated Planes! The DC-7 and DC-7B Base Packs now feature opening doors, complete with stairs! The DC-6B, DC-7, DC-7B, and DC-7C Base Packs have also been improved with updated interior textures by Frank Gonzales and myself - now you can see out of the windows from inside the cabin!
Eric Joiner has updated his DC-6B, DC-7, and DC-7C liveries to include opening door and interior textures!
New Scenery! Paul Young has created Memphis in 1958!

May 11, 2010
April 29, 2010
April 15, 2010
New Plane! Gary Harper has painted up a California Central Martin 2-0-2!

Aircraft Updates! All of "my" airplanes with panels included have been updated with realistic slow prop rotation on starting (FS2004 only), fuel dumping (DC-6/7), autofeather, and more! The DC-6 panel also has had Robert Graf's Damage Module added! The Martin twins now are no longer transparent at dusk/night! Updated planes include the AAL CV-240, UAL CV-340, Pacific M202/M404, Southern M404 , UAL DC-6B, and UAL DC-7!
February 23, 2010
System 7 users - when adding scenery to the Scenery Library, after finding the new scenery's folder and clicking OK, you will need to right click the empty white space in that box so the box closes and the new scenery is actually be added to the library.
February 18, 2010
New Scenery!

Paul Young has created the first classic airport with the terminal created in the new program Sketchup (easier than GMAX or FSDS)! I have created a Sketchup Tutorial as well. Here is Kansas City in 1958!

Al Courtney has created Dayton OH in 1956 and St. Petersburg FL in 1957!



February 1, 2010
Classic Era Charts now available! Thanks to several generous people we now can see how the airlines flew into various airports back in our era. There are also airport diagrams available!
EditVoicePack file update! I have added many callsigns, etc. to the EVP file for the Classic AI Traffic. This caused some very minor updates to aircraft files 1, 4, 5, and 6 and the AFCAD file.
January 18, 2010
Updated AI Traffic Package! We have added new planes and over 200 new liveries to the package!

New Scenery! Kenny Fox has created Roanoke VA in 1956!

Updated Planes! I've updated the DC-6 and DC-7 panels with improved fuel and oil handling. This unfortunately requires you to download and install all DC-6, DC-6A, DC-6B, DC-7, DC-7B, and DC-7C Base Packs again. Don't forget to back up the aircraft.cfg files if you have added any liveries to the planes!
January 13, 2010
New Plane! Hans Hermann has painted up Manfred's new L-749 into the white top TWA scheme!

January 6, 2010
Happy New Year!
New Scenery! Paul Young and I have backdated Gary Widup's modern St. Louis airport scenery to 1962!

November 15, 2006
New Tutorial! FSAviator has created a vintage flying tutorial, for aircraft like the Ford Trimotor! It also includes a flight dynamics tweak for the Trimotor!
July 29, 2004
New Tutorial Quick Reference File! FSAviator and I have created a Quick Reference guide for use when actually flying an airliner route, using the techniques explained in his tutorial (below). However, you must have read and understood the entire tutorial first before you will be able to use the quick reference file.
July 20, 2004
New FSAviator Propliner Tutorial! This is it! The only tutorial written that describes in complete detail how to fly the propliners like they really were flown in the classic era (from 1932 up to about 1955 in the USA, later in other areas). Most information is completely applicable for flying in later years as well. It comes in text file format, and includes 5 parts:

General Operation of Propliners
Flying the Ranges
Arriving
Departing
Flight Planning for Long and Short Distance Flights

This is an exhaustive tutorial that takes you through the details of each phase of flight, and comes complete with approach plates for visual aids (Adobe Acrobat required to view/print approach plates). The complete tutorial is 1.1 MB. I printed it, read it, and now keep it by my computer for ready reference! Copyright FSAviator July 2004.
June 15, 2002
The California Classic page has a new home! We've moved into our new home - www.calclassic.com, and I hope that you like it.
March 14, 2000
The Classic Airliner Page has become the California Classic Propliners page! Same address as below.
January 18, 1996
The Classic Airliner Page is born! Its original address was http://members.aol.com/TGFltsim/
---


Jets are for kids!
Instructions for many problems and how to install aircraft, panels, and sounds here.
---
Hi! I'm Tom Gibson, and I hope you enjoy my page. If you have any questions, don't forget to check the Instructions first!! You can get many questions answered by leaving a message at the California Classic Forum (propliner questions) or the FreeFlight Forum (aircraft design questions). You can also send me email - this is a despammed address - remove the first t from the address!!

My other interests include railroads (especially Alco diesels and the WP), computers, camping, fly fishing, and Modoc County (far northeast California). Drop by again - soon!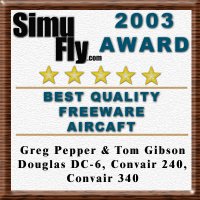 Be notified
when Cal Classic changes!
---